Besides, Kek Lok Si, Penang Hill and Heritage Street, where else to visit in Penang? Lets go explore the country side of Penang – Balik Pulau. Check the Balik Pulau itinerary now!

【Penang 1 Day Itinerary – Balik Pulau】
Suitable for : Second visit to Penang, Nature Lover, Explore the Penang countryside
Morning  : Maxim Dim Sum (Breakfast) > Visit Snake Temple> Enjoy Balik Pulau view via sightseeing > Visit Nutmeg Factory > Visit Melayu Village
Afternoon : Try Balik Pulau famous Assam Laksa (Lunch) > Have fun with little animals at Saanen Dairy Goat Farm > Horse Rides at CountrySide Stable
Evening : Half Acre Restaurant (Dinner)
【More information :】
Maxim Dim Sum :
Maxim group is the icon of Dim Sum and Chinese Cuisine located in Penang.
📍 Bangunan Lip Sin 2 G 11 & 12, Lebuh Pekaka 1 Sungai Dua, Taman Pekaka, 11700 Gelugor, Pulau Pinang
🕐 6am – 2pm (Daily)
Snake temple 
It was built in 1805 for Chor Soo Kong, a Buddhist monk. Devotees from as far away as Singapore, Taiwan and China come to pray in the temple on the monk's birthday and to watch the holy viper.
📍 Jalan Sultan Azlan Shah, Bayan Lepas Industrial Park, 11900 Bayan Lepas, Pulau Pinang
🕐 6am – 7pm (Daily)
Balik Pulau and sightseeing the country view of Penang
Enjoy the scenic view of the agricultural town of Balik Pulau.
Nutmeg Factory
The owner is very passionate about nutmegs and will carefully explain the details of processing nutmegs from raw fruits to the final product. 
📍 MK 3, 202A, Jalan Tanjung Bungah, Kampung Sungai Pinang, 11000 Balik Pulau, Pulau Pinang
🕐 9am – 6pm (Daily)
Melayu Village
You could feel at ease just walking around the village and enjoy the mangrove kind of life-style.

Lunch at the one of the famous laksa in Balik Pulau
One great spot to savor delicious Laksa is at Kim Seng Kopitiam, home of the famous Balik Pulau Asam Laksa. 
📍 20, Jalan Sungai Air Putih, Bandar Baru Air Putih, 11000 Balik Pulau, Pulau Pinang
🕐 11am – 5pm (Closed Mon & Tue)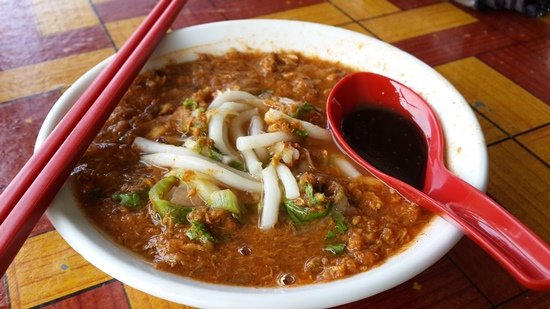 Saanen Dairy Goat Farm (Entrance Fees RM6/Pax)
Saanen Dairy Goat Farm offers animal lovers a chance to be surrounded by warm and loving animals. This is a family-friendly experience as you will have a chance to feed the goats and watch the milking process. 
📍 298, Mukim 1, Kuala Sungai Pinang, 11010 Balik Pulau, Penang
🕐 10am – 5pm (Daily)
CountrySide Stable (Entrance free of RM5 adults & RM3 children)
A trip to countryside stables will be able to fulfill your dreams of riding a horse. This is something to tick off the bucket list as you will get to feed, pat, and ride ponies.
📍 Lot 10050, Jalan Sungai Burung, Kampung Sungai Burung, 11000 Balik Pulau, Pulau Pinang
🕐 10am – 12pm, 2pm-7pm (Daily)
Half Acre Restaurant
Half Acre Restaurant is a rustic Hakka-Chinese eatery whose specialties are slow-cooked chickens in wood-fired giant urn-ovens, and 30-hour slow-simmered soups.
📍 6, Air Putih, 11000 Balik Pulau, Pulau Pinang
🕐 11am – 10pm (Daily)
Penang Itinerary  List :-
#PenangItinerary#MalaysiaItinerary
Credit : @penang.experience
---
We provide 【The Best Penang Van Rental 】services in Malaysia.。Contact us now!🤠
💬 FB messenger : http://bit.ly/2M0lE60
📲 Whatsapp (+6011-1063 1126) : http://bit.ly/2rQ5LIA